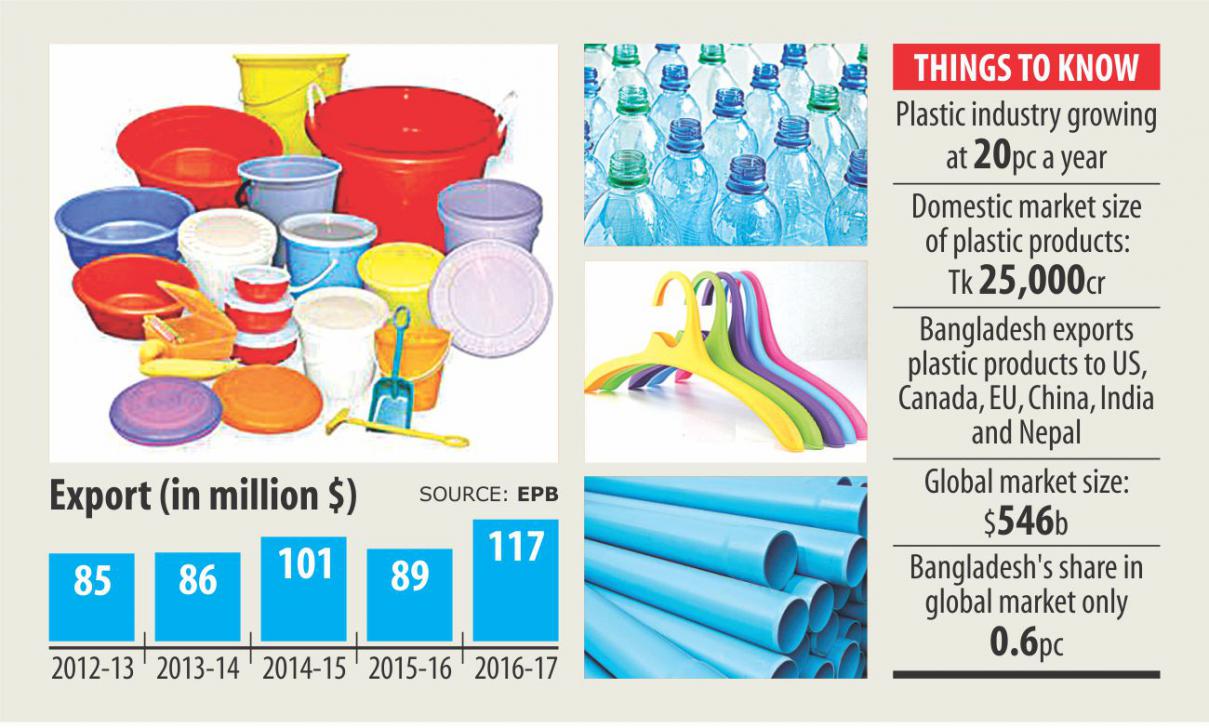 The plastic industry has been growing at about 20 percent a year on the back of spiralling demand from domestic and export markets.
In fiscal 2017-18, the domestic market size of plastic products hit Tk 25,000 crore, according to the Bangladesh Plastic Goods Manufacturers and Export Association (BPGMEA).
Plastic exports rose 31 percent year-on-year to $117 million last fiscal year, according to data from the Export Promotion Bureau.
"Bangladesh has huge potential to grow further," said Kamruzzaman Kamal, director for marketing at Pran-RFL Group, which is the market leader in the organised plastic sector.
The average plastic consumption in Bangladesh is about 2 kg per person. In contrast, in India it is 6 kg and 40 kg in Gulf countries and 10 kg in Southeast Asia, he said.
Bangladesh currently manufactures 142 plastic items and the number is increasing by the day. The country mainly exports intermediate products like film plastic, household items and garment accessories to the US, Canada, the Europe, China, India and Nepal.
Bangladesh has only 0.6 percent share of the $546 billion global plastic market.
Bangladesh produces several types of extrusion material, molding, thermosetting conversion like manufacturing of PVC pipe, shopping bag, injection molding products, garment bag, woven bags, PET/PE bottle, laminated packages, making of profile, rigid sheet, garments accessories, household products, cosmetics, medicine packs etc.
The BPGMEA has set a target to occupy 3 percent of the global market by 2030 and the government is providing 10 percent cash incentive to the exporters.
As of now, total investment in the sector is around Tk 20,550 crore. The plastic sector is the 12th highest earning export sector in Bangladesh.
BPGMEA Vice President KM Iqbal Hossen said the plastic makers are also contributing to the growth of the garments sector by serving the sector's backward linkage industry.
Most of the plastic makers are based in Dhaka and cater to the local demand as import substitutes. Gradual growth in the plastic industry was noticeable from 1980 to 1990, when a large number of injection grade and film grade plastic plants were set up, BPGMEA leaders said.
Since then the sector started playing a significant role in the national economy and moved faster than other sectors, it said.
After 1990, they have started setting up better grade and more sophisticated industries to produce export quality plastic goods, according to Hossen.
"Today we have several factories engaged in plastic goods export from Bangladesh. Most of the factories are enhancing their capacity to meet the overseas demand."
According to the standards set by BPGMEA, the big units are those which have invested at least Tk 100 crore, the medium units have investment worth Tk 10 crore and the small units have invested at least Tk 50 lakh.
The plastic makers have created at least 12 lakh jobs in a total of 5,030 small, medium and big factories across the country.
Some 175,500 people are doing job in small units, 444,000 people in 1,480 medium units and 10,000 people in big units.
Besides, indirect employment is 200,000 and dependent manpower is 400,000 in the sector, Hossen said.
The number of people employed in the plastic goods sector is equivalent to one fourth of the people employed by the garment sector.
Job opportunities in the plastic sector are spiralling thanks to the rapid expansion of the market and production, he said. Bangladesh imports around 120,000 tonnes of plastic raw materials each year and it is continuously growing.
In the last fiscal year, Bangladesh imported 1.3 lakh tonnes of raw materials worth Tk 10,614 crore.
In Bangladesh, there is no unit to produce poly-olefin and petrochemical, which are the main raw materials for producing plastic goods, Enamul Haque, managing director of Expo Accessories Ltd, a plastic goods maker.
"For this reason, we have to import raw materials from India, China, Formosa, Vietnam and Taiwan."
(Courtesy: The Daily Star)