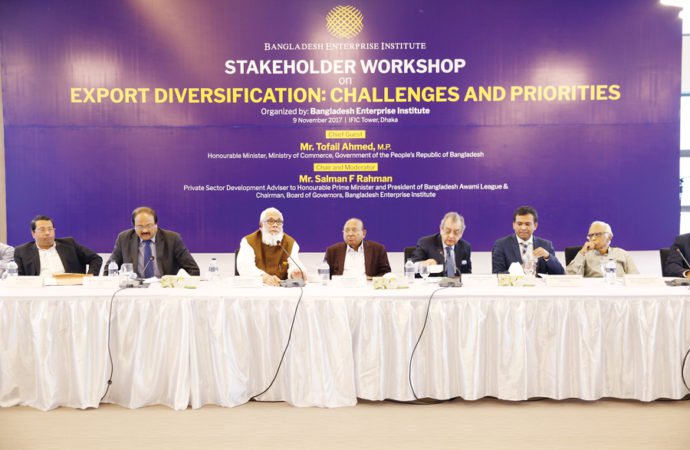 Speakers on Thursday said that in order to diversify the country's export basket, export-oriented businesses should be given the policy support that has proved highly successful in bringing vibrancy to the country's RMG sector.
They were speaking at a workshop styled "Export Diversification: Challenges and Priorities," organised by Bangladesh Enterprise Institute (BEI) in the auditorium of International Finance Investment and Commerce Bank in Dhaka.
Dr Mohammad A Razzaque, former head of International Trade Policy at Commonwealth Secretariat in London, presented a keynote paper in the programme chaired by Salman F Rahman, private sector development advisor to Awami League President and Prime Minister Sheikh Hasina.
Salman said export diversification would be possible only when adequate and appropriate policy support is provided to all export-oriented industries.
Dr Razzaque in his keynote paper suggested revamping and deepening policy support such as providing cash assistance and bonded warehouse facilities to all such industries to improve their export competitiveness.
He also highlighted the need for further expanding Bangladesh's export basket as its penetration into global export markets in the last decade was very insignificant.
Eminent economist Prof Wahiduddin Mahmud said: "In addition to providing subsidies and cash incentives to thriving and promising sectors on a long-term basis, the government should take measures to strengthen the country's manufacturing base."
Shafiul Islam Mohiuddin, president of the Federation of Bangladesh Chambers of Commerce and Industry, said the government's support is a must to create a strong manufacturing base for export diversification. "Skill development measures may also play a vital part in this regard."
Addressing the event as the chief guest, Commerce Minister Tofail Ahmed said export diversification depends on businessmen's initiatives.
He, however, pledged all necessary support from the government for export diversification to meet the country's $60 billion export target by 2021.
BEI President Farooq Sobhan emphasised engaging the private sector in relevant policy discourses to achieve the target.
"A private sector-oriented policy mechanism is very important as rapid changes are taking place in the global trade landscape. Understanding implications and generating timely policy responses to unfolding developments will be meaningful only when the private sector is able to benefit from them," said Sobhan.
Among others, Mustafizur Rahman, a fellow at the Centre for Policy Dialogue; Kazi M Aminul Islam, executive chairman of Bangladesh Investment Development Authority; Bijoy Bhattacharjee, vice chairman of Bangladesh Export Promotion Bureau, and Md Nojibur Rahman, chairman of the National Board of Revenue, also spoke.
(Courtesy: Dhaka Tribune )