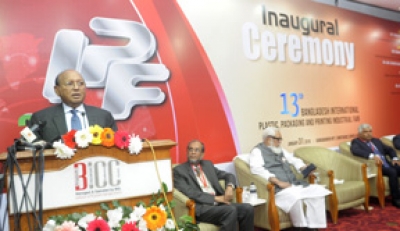 The 13th International Plastic Fair (IPF)-2018 kicked off Wednesday with an exhibition of latest technology, machinery, raw materials, colours, and additives for the plastic industry under a single roof.
Commerce Minister Tofail Ahmed inaugurated the four-day fair at the Bangabandhu International Conference Centre (BICC) in the city.
With Bangladesh Plastic Goods Manufacturers and Exporters Association (BPGMEA) President Md Jashim Uddin in the chair, the programme was also attended by Prime Minister's Private Sector Development Affairs Adviser Salman F Rahman and Bengal Group chairman Morshed Alam.
Some 360 companies from 16 countries around the globe are taking part in the fair showcasing their products in 680 stalls under 15 categories.
During his speech, BPGMEA President Md Jashim Uddin said the country needs a packaging law to specify the use of plastic bags and packaging.
He also urged the government to revaluate Mandatory Jute Packaging Act 2010 as this law is hampering the use of plastic bags.
He said plastic sector can be green and as environment-friendly one.
"The government can help us make the sector greener and create awareness to remove misconception from people about plastic goods," he said.
He said about 70per cent of the products being used in the daily lives of the people in the country are plastic made.
"Plastic products are now being used instead of wood and iron. Its use could increase in future."
Agreeing with Jashim Uddin, Commerce Minister Tofail Ahmed said plastic goods and bags are low- cost but declined to comment about the jute packaging law.
He said cash incentives to the industry work very well.
"Export growth has increased in those industries significantly that received cash incentives from the government," he said.
Prime Minister's Private Sector Development Affairs Adviser Salman F Rahman said private sector could earn their targets if government plays a facilitating role.
He urged the sector leaders to let business leaders, common people and policy makers know about the prospect and need of the plastic sector.
He also said plastic sector has to increase their export growth as the country wants to diversify its export basket.
The government is ready to provide all-out support in this regard," he added.
Last year, IPF gathered over 260 exhibitors from 11 countries and areas, such as Austria, Bangladesh, China, Hong Kong, India, Indonesia, Korea, Malaysia, Singapore, Taiwan, and Thailand. Meanwhile, more than 11,200 professional buyers visited the show, boosting the trade fair to a brand new horizon.
Currently, Bangladesh exports plastics products to different countries, including the USA, Canada, China, India, Nepal and the European Union. The government will set up a dedicated industrial zone in Munshiganj to promote environment-friendly plastic industry.
The Executive Committee of the National Economic Council (ECNEC) approved the Tk 1.33 billion project, slated for completion by 2018.
(Courtesy: The Financial Express )