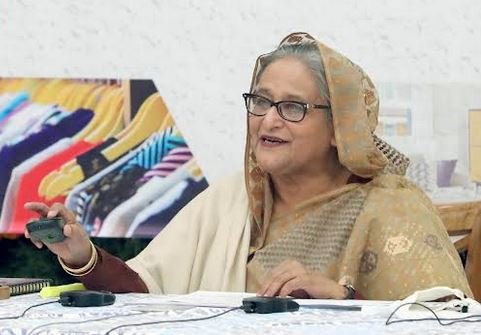 Prime Minister Sheikh Hasina today inaugurated the month-long Dhaka International Trade Fair (DITF)-2022 at the Bangabandhu Bangladesh-China Friendship Exhibition Centre (BBCFEC) at Purbachal, a new city in the outskirts of the capital.
The premier virtually joined the inauguration ceremony of the 26th edition of the trade fair from her official residence Ganabhaban. At the same time, the prime minister also declared "ICT Products and Services" as the "Product of the Year" for 2022 to encourage exports in accordance with the export policy.
Ministry of Commerce and Export Promotion Bureau with the help of other agencies are arranging this trade fair for the growth of country's export products and market diversification.
Commerce Minister Tipu Munshi, earlier, said it was not possible to arrange the fair in the last year due to Covid-19 pandemic, but now the trade fair is being taken place at its permanent venue (BBCFEC) for the first time.
This year, he said, the fair has been arranged keeping in mind the birth centenary of Father of the Nation Bangabandhu Sheikh Mujibur Rahman, the golden jubilee of the country's independence and the development activities of the government. The commerce minister said that there will be 30 buses for transporting the fair visitors and the buses will run from the bottom of the Kuril flyover throughout the month.
The visitors, he said, will be able to travel on these buses with a minimum fare of Taka 30. Traders from more than 11 countries are participating in the fair, he added.He said that a total of 227 stalls, including 23 pavilions, have been installed at the new venue. The venue will feature a prayer room, children's playing area, food codes, office rooms, medical rooms, guest rooms for officials, store rooms, he added.
Source: DHAKA, Jan 1, 2022 (BSS)