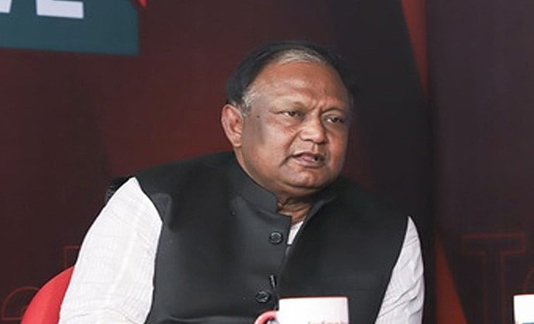 Commerce Minister Tipu Munshi today said that the fair price products of state-run Trading Corporation of Bangladesh (TCB) would be reached to the homes of middle class families through e commerce.
"TCB is selling essential items across the country through trucks at fair price. The government has taken decision to sell four essential items like edible oil, chickpeas, sugar and lentil so that the middle class families are not deprived of such facility," he said.
The Commerce Minister was addressing the inaugural ceremony of the operations of "Mahe Ramjan e Ghore Boshe Shostir Bazar" organized by the E Commerce Association (e-CAB).
He said support from e-commerce is being taken to reach the fair price products of TCB to the homes of middle class families. "The country's people got results in the past over availing onion and mangoes. We hope that people will have more trust on e-commerce,"
Tipu observed that the staffs of e commerce are reaching their products after taking risk during the COVID-19 pandemic. "This is an act of benevolence while it is also praiseworthy act for which people are getting facility to buy products staying at home,"
He also opined that e-commerce could gain popularity in short time thanks to materialization of Digital Bangladesh awarded by Prime Minister Sheikh Hasina.
The Commerce Minister said transactions worth Taka 16,000 crore took place through online last year while the government has taken all necessary steps to support e commerce.
He also informed that the government has taken all necessary initiatives so that no error could take place in the e-commerce business.
The e-CAB digital hut dot net is selling the TCB products through its eight organizations at fair price to the middle class families through online. The four products will be sold till May 6.
The price of per liter edible oil will be Taka 108, per KG sugar, chickpeas and lentil Taka 58 each. Each consumer will be able to buy maximum 5 liter edible oil, 3 kg each sugar, chickpeas and lentil per week where the delivery charge inside Dhaka will be Taka 30 and outside Dhaka Taka 40.
Initially such facility would be available in Dhaka, Tangail and Sirajganj districts.
Senior Secretary of the Ministry of Commerce Dr Md Jafar Uddin spoke at the function as special guest chaired by e-Commerce Association president Shomi Kaiser.
Director general of WTO cell of Commerce Ministry M Hafizur Rahman, Additional Secretary (import and domestic trade) AHM Shofiquzzaman, TCB director Moin Uddin Ahmed, e-Commerce Association director Zia Ashraf, Swapno on line director Shahedul Islam, Chaldal dot com director Ishrat Jahan Nabila and e-Commerce Association Secretary General Abdul Wahed Tomal spoke, among others, on the occasion.
Source: DHAKA, April 26, 2021 (BSS)