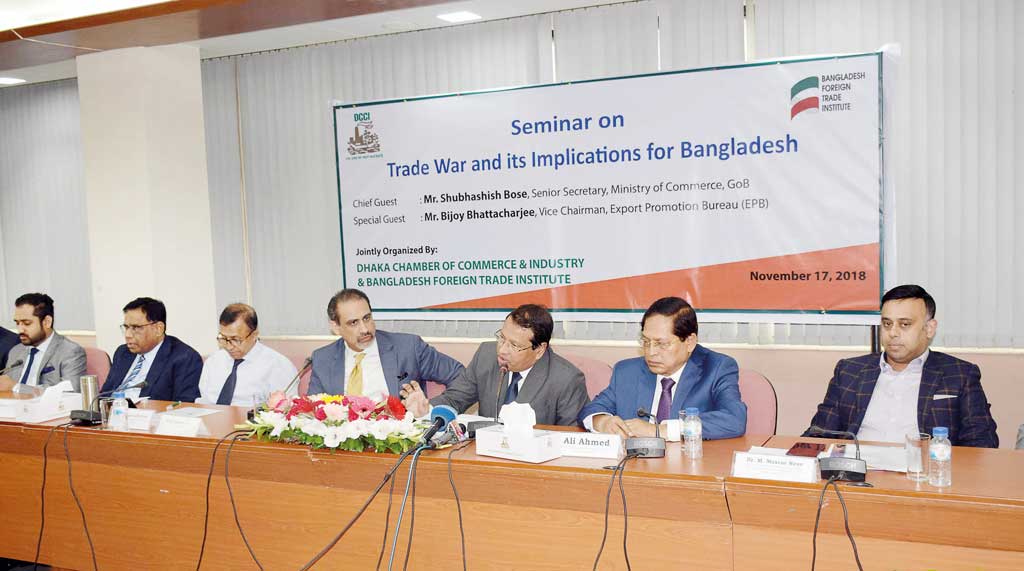 In reaping benefits from the US-China trade war, Bangladesh has to overcome infrastructure deficits, focus on skill development, and improve ease of doing business, trade experts said on Saturday.
Speaking at a seminar titled 'Trade War and its Implications for Bangladesh,' they also stressed the need for technology based industres and improving compliance standards.
Government officials, trade analysts, and business people gave the recommendations at the seminar organized jointly by the Dhaka Chamber of Commerce and Industry (DCCI) and the Bangladesh Foreign Trade institute (BFTI), at the chamber's own auditorium.
"The uncertainty and tension of the US-China trade war will not last long. But we can reap benefits from the crisis and problems. USA imposed tariff on about $250 billion worth of Chinese products. As a result of this trade war many factories from China may be relocated to some Asian countries with potential, and we should take this opportunity," said Senior Commerce Secretary Shubhashish Bose.
In tapping the opportunity, the country has to be prepared with infrastructure facilities. If the nation can get ready in a short span of time, then the benefits of the trade war would come to the economy, said Shubhashish.
"We have already provided many facilities to prospective world investors. But it has to be done in a hurry. Bangladesh is also taking some steps in order to improve its standing in the ease of doing business index, such as allowing Chinese currency in opening Letters of Credit," he added.
"Our capability is not enough to attract foreign investment in all sectors, as local industriesare focused mainly on labor incentive industries. That is why, Bangladesh needs to invest in robotic and artificial intelligence to attract investments in hi-tech industries such as the electronic and automobile sectors. "
DCCI President Abul Kasem Khan said China has recently reduced tariffs on scores of products from several countries, including Bangladesh.
"According to the International Monetary Fund (IMF), the cost of the trade war is about $430 billion which is 0.5% of the world's Gross Domestic Product. Trade war could reduce global growth by at least 1.4% over two years. China recently announced a long list of tariff cuts on imports from South Korea, India, Bangladesh, Laos, and Sri Lanka," said DCCI President.
"Bangladesh needs to capitalize on the tariff cuts and seize this window of opportunity. Many 'sunset industries' from China will need to move out and Bangladesh can be an ideal destination," said Kasem.
Under the given scenario, Bangladesh has to create a smooth transition process, establish an enabling situation focusing on ease of doing business for the factories to be relocated, and should have a planned marketing and branding mechanism, Kasem Khan said further.
Bangladesh could benefit by taking advantage of the supply chain relocation, likely to happen in the long run if the trade war persists, he added.
Stressing on the need for research and innovation, Kasem said the 4thIndustrial Revolution (4IR) is kicking off, so businesses must engage in appropriate research and development approaches, and embrace technology to boost production and become competitive.
"There must be short term, midterm, and long term strategic directions to address the 4IR advancement, which will become another challenge for Bangladesh if not addressed properly," he added.
Trade war to bring more FDI to Bangladesh
It is assumed that many sunset industries in China will relocate to many Asian economies due to a rise in their cost of production, caused by recent higher US tariffs. Bangladesh would benefit from the war in receiving foreign investments.
"These measures (tariff, trade war) are aimed at penalizing Chinese companies. US companies located in China are moving to relocate elsewhere and they are not going back to the US," said Shubhashish Bose.
The trade war has made more than $250 billion Chinese exports more expensive for US buyers. But these companies are not going back to the US. Rather, they are looking to transfer to lucrative Asian markets, he added.
According to a US trade organization survey, only 6% of companies located in China would return to the US, while 94% are keen to relocate to Asian countries, which would create more opportunities for Bangladesh.
If we want to attract Chinese sunset industries to relocate their industries in Bangladesh, we need to stress on infrastructure development, skill development, and undertake technology based industries, said Bose.
"From the US-China trade war, Bangladesh is expected to bring some share of the textile business and foreign investment," said Dr M Masrur Reaz, Senior Economist of the International Finance Corporation (IFC), World Bank Group.
"To this end, if we want to attract sunset industries, improving on ease of doing business, tariff rationalization, and improving compliance standards are of paramount importance."
Since Bangladesh was at 176 out of 190 countries in the World Bank's ease of doing business index, engaging the private sector and other stakeholders in policy design for improving the investment climate is another important task, said Abul Kasem Khan.
He recommended formation of a high powered "National Competitive Strategic Action Taskforce" under a public private initiative.
Global FDI flows fell by 23% in 2017 to $1.43 trillion from $1.87 trillion in 2016, but FDI inflow in Bangladesh is rising at a slow pace, said the DCCI president.
Apparel sector needs to increase capacity to get benefits
Since the US is the single largest export destination for Bangladeshi goods, it can harvest better opportunity from the trade war. In doing so, Bangladesh has to increase supply side capacity to meet demand.
"Exports orders from many US buyers, especially in the RMG sector, are coming back to Bangladesh. Having this trade war in the world, Bangladesh's share in total US apparel imports has risen to 6.46% from 6.41% in 2017," said Ali Ahmed, CEO of BFTI, in his keynote presentation.
Due to a price drop for cotton and soybeans, Bangladesh could have an advantage as an importer, he added.
"If the US imposes more tariffs, especially on apparel goods from China, Bangladesh can benefit from the export of clothing products," said Mostafa Abid Khan, member of Bangladesh Tariff Commission.
(Courtesy: Dhaka Tribune)