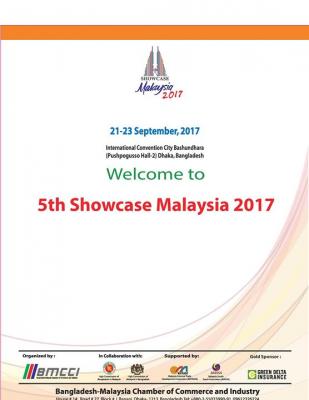 The 5th Showcase Malaysia-2017 ended here recently is likely to further promote the Malaysian investment in Bangladesh as many trade and investment proposals have already come from different meetings on the sidelines of the grand event.

"Different investment proposals in many sectors, including tourism and hospitality, health, herbal industry, infrastructure development and power, have come from one to one and other business matching sessions," chairmen of the fair organising committee Syed Moazzam Hossain told BSS here today.

At least 50 one to one business matching sessions and two seminars were held during the three-day fair and Pendekar Energy Limited, a Malaysian based company, declared at a seminar to establish a 1250 megawatt coal based power plant in Bangladesh, he said.

Hossain, also a leading businessman in Bangladesh, said all necessary procedures to establish the power plant will be completed as early as possible and the other Malaysian power companies have shown their keen interest to participate in any tender to be floated by Bangladesh government for electricity transmission and distribution in the country.

In the showcase event, Moazzam Hossain said, eight Malaysian doctors provided free medical checkup and treatment to the Bangladeshis patients. "They also met the Bangladeshi doctors in knowledge sharing sessions about the two countries' health system, he added.

Around 8,000 visitors, including entrepreneurs, exporters, importers, students, professionals and doctors have visited the event to gather knowledge in their respective fields from the 50 Malaysian and four Bangladeshi companies.

"Both visitors and Malaysian businessmen became happy as they could enrich their experiences in various fields to expedite their businesses," he added.

Moazzam Hossain, also a past vice president of Bangladesh-Malaysia Chamber of Commerce and Industry (BMCCI), said some Malaysian interior designers and architecture construction companies took part in the fair to promote their product for development in the country's tourism and hospitality sector.

The three-day trade fair was held at the International Convention City, Bashundhara in the city from Sept 21 to Sept 23 aimed at further boosting trade and investment ties between the two countries.

BMCCI organised the event in collaboration with the Malaysia High Commission in Dhaka and Bangladesh High Commission in Kuala Lumpur and supported by Malaysia External Trade Development Corporation (MATRADE) and Malaysia South-South Association (MASSA).
(Courtesy: Bangladesh Sangbad Sangstha )